Adding an VMware Horizon Environment
VMware Horizon environments can only be configured by the Global Admin user.
Similar to other integrations you must add details of the VMware Horizon environment into AppsAnywhere. Once you link AppsAnywhere to an VMware Horizon environment you will then be able to reference the published resources (applications and desktops) in Horizon in VMware Horizon delivery methods and make them available to your users. In this article, we will discover how to create a new connection to an VMware Horizon environment.
Creating the environment
Login to the AppsAnywhere admin portal the Global Admin user.

From the AppsAnywhere admin portal, search for VMware Horizon, or go to Connectors > VMware Horizon in the navigation menu

Click on the Add environment button in the top right of the page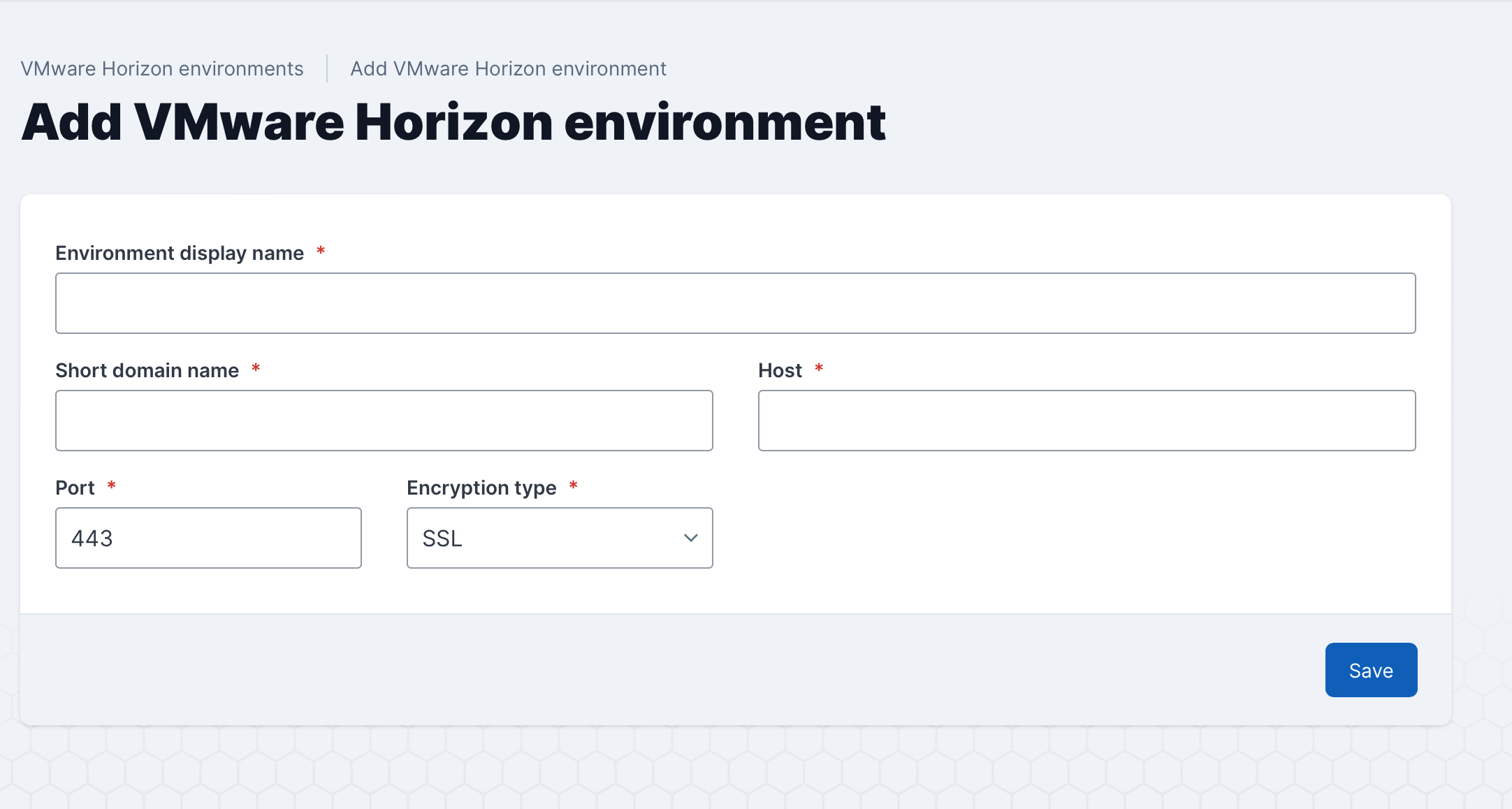 4. Enter the details of your VMware Horizon environment
Form Field Name

Explanation

Example

Environment display name

A friendly name for the environment.

Horizon Production Environment

Short domain name

The NetBIOS domain name the users are a member of and will be authenticating against.

DOMAIN

Host

The internal FQDN of the VMware Horizon Connection Server

horizon-1.example.com

Port

The port number the Horizon Connection server is listening on. Enter port 443 for HTTPS (default) or port 80 for HTTP.

If your Horizon Connection Server is listening on a different port number enter it here.

443

Encryption Type

The traffic type that will be used to connect to the Horizon Connection Server.

SSL (default): HTTPS connection will be used.

None: HTTP connection will be used.

SSL
5. Save the environment
Once you have entered all of the relevant details of the environment, hit the Save button.
You will be shown a success message, and when returning to the Viewing VMware Horizon Environments page you can now see your environment listed.